Cardiopulmonary Services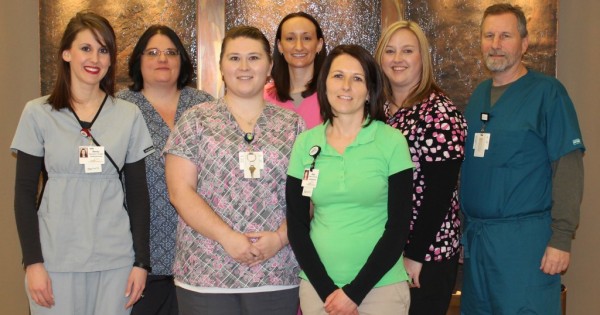 The Respiratory Therapists at Salem Township Hospital are board certified by the National Board for Respiratory Care and are available 24 hours per day. These are just two reasons why the department is the only one in Southern Illinois that has earned the distinction of Quality Respiratory Care Provider (QRCR) for fourteen years in a row.
The American Association for Respiratory Care (AARC) started the QRCR program in 2003 to help consumers identify facilities utilizing quality practices in the field. Respiratory Therapists are health care professionals who provide a wide range of treatments and diagnostic tests to treat patients with asthma, chronic obstructive pulmonary disease (COPD), cystic fibrosis, AIDS, lung cancer, and other lung-related conditions.
The Cardiopulmonary Department also employs Certified Cardiology Technicians who performs diagnostic procedures such as EKGs, Stress Tests, "Chemical" Stress Tests, Stress Echos; Holter Monitors; Cardiac Event Monitors, and other tests such as EEG.
A Registered Pulmonary Function Technologist performs a wide variety of lung function testing. The results of these tests aide the physician in diagnosing breathing disorders and other diseases, as well as monitoring the effects of medication.
The Respiratory Therapists at Salem Township Hospital are trained to care for patients who require critical and emergency care for breathing problems. These Respiratory Therapists have nearly 100 years of combined experience in caring for patients with breathing disorders.
Announcing new service in the Cardiopulmonary Department
The Cardiopulmonary Department would like to announce that we have a new Outpatient diagnostic procedure; ABPM (Ambulatory Blood Pressure Monitoring).  ABPM can be used by providers to help diagnose high or low blood pressure in cases where the patient has inconsistent BP readings in and out of the provider's office.  The monitor is set up in the Cardiopulmonary Department (a physician/practitioner order is needed) and is worn by the patient for 24 hours.  A report is then sent to the provider.
Contact Us
To schedule an appointment:
618-548-3194, ext. 8240
Director Chris Jahn:
618-548-3194, ext. 8241
cjahn@sthcares.org
Staff
Stacie Burleyson, CRT; RCP
Kelly Cavins, CRT; RCP
Kati Stroup, CRT;RCP
Becky Goldsboro, CRT, RCP
Theresa Bass, RRT, RCP
Sarah Orrell, CRT, RCP
Brittini Cape, CRT, RCP
Shelly Thompson, RRT, RCP
And EKG/EEG Technologist, Augusta Juday, CCT
Director: Chris Jahn, CRT, RPFT, CCT, RCP