Our Medical/Surgical Unit offers newly opened spacious, private rooms with a view of the surrounding park and reservoir. This creates a restful environment for your healing process. Our highly experienced nursing staff provides care to patients whether they are receiving treatment for their medical conditions or care after their surgical procedure. This well-coordinated group of registered nurses, LPN's, and CNA's is committed to making your stay at Salem Township Hospital an excellent one. Our goal is to make you feel safe, comfortable, and well-cared for.
Features of Each Room
An adjustable bed with side rails and a nurse call button. Your nurse will show you how to operate it.
A private full bathroom.
Comfortable sofa for family and friends with their own color TV and remote control
Lights which can be bright for reading or visiting, dimmed for more quiet times, or turned off for sleep.
Closet and storage space for some personal belongings such as a coat and clothes.
Telephone service is available in your room at no cost. Family may call you directly by dialing the number printed on your phone. For local calls, push 6 and then the number. For long distance calls, push 8 and then 0. Long distance calls must be collect or credit card.
A color television with remote control and a pillow speaker.
We have a hospitalist program which assures that you will be seen by a physician daily. These physicians work with your primary care providers to assure that your care continues after you are discharged. We have a case manager assigned to each patient who will help coordinate your discharge to assure that you have the items you will need at home.
We welcome your questions and comments.
Intensive Care Unit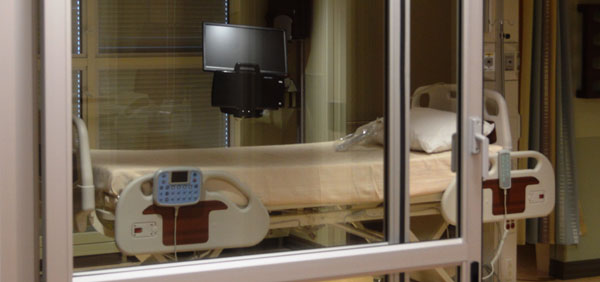 Our ICU is a newly opened, state of the art, nursing unit with staff who are qualified to care for those patients needing critical care. The Intensive Care Unit is a patient and family focused unit where care is provided for acutely ill medical and surgical patients. A mix of highly qualified nursing personnel including Registered Nurses, Certified Nursing Assistants, and Unit Secretaries work as a coordinated team with your physicians to provide the best care possible. ICU Nurses provide continual assessment of their patients; working towards preventing complications; providing a healing environment; and caring for the patients and families with the intention of achieving the best possible outcomes.
---
To speak to a nurse:
618-548-3194. ext. 8140