Medical/Surgical Unit
Our Medical/Surgical Unit offers spacious, private rooms with a view of the surrounding park and reservoir. This creates a restful environment for the healing process.
Our highly experienced nursing staff provides care to patients whether they are receiving treatment for their medical conditions or care after their surgical procedure. This well-coordinated group of registered nurses, LPN's, and CNA's is committed to making each patient's stay at Salem Township Hospital an excellent one.
Our goal is to make patients feel safe, comfortable, and well-cared for.
Hospitalist Program
We have a hospitalist program which assures that patients will be seen by a physician daily. These physicians work with primary care providers to assure that patient care continues after discharge. We have a case manager assigned to each patient who will help coordinate discharge to assure that all the needed items are sent home.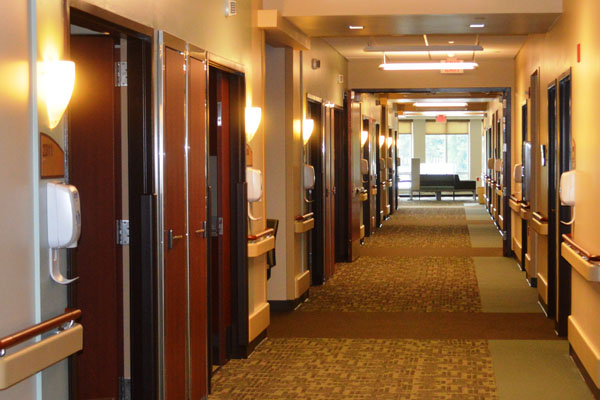 Features of Each Room
An adjustable bed with side rails and a nurse call button. Your nurse will show you how to operate it.
A private full bathroom.
Comfortable sofa for family and friends with their own color TV and remote control
Lights which can be bright for reading or visiting, dimmed for more quiet times, or turned off for sleep.
Closet and storage space for some personal belongings such as a coat and clothes.
Telephone service is available in your room at no cost. Family may call you directly by dialing the number printed on your phone. For local calls, push 6 and then the number. For long distance calls, push 8 and then 0. Long distance calls must be collect or credit card.
A color television with remote control and a pillow speaker.
Intensive Care Unit
Our Intensive Care Unit (ICU) is a state of the art nursing unit with staff who are qualified to care for those patients needing critical care. The ICU is a patient and family focused unit where care is provided for acutely ill medical and surgical patients.
A mix of highly qualified nursing personnel including Registered Nurses, Certified Nursing Assistants, and Unit Secretaries work as a coordinated team with your physicians to provide the best care possible.
ICU Nurses provide continual assessment of their patients; working towards preventing complications; providing a healing environment; and caring for the patients and families with the intention of achieving the best possible outcomes.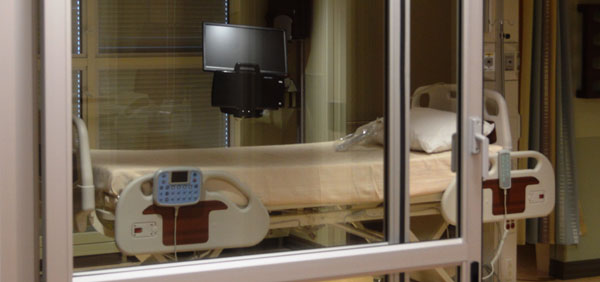 Swing Bed Services
Many times a patient is not ready or able to return home immediately after hospitalization from a major illness or surgery. We offer patients Swing Bed services in order to provide a viable alternative to a long-term care facility.
Through our services, patients receive exceptional skilled care with an emphasis on maximizing health and rehabilitation potential.
The primary objective of the Swing Bed service is to assist patients and their families in meeting their individual goals, whether it is to return home or transition to a new living environment.
Swing Bed is a skilled level of care that is offered right here at STH. If the patient has been hospitalized with a qualifying medical condition that required a stay of at least three nights in the hospital, the patient may qualify for Swing Bed services.
SCOPE OF SWING BED SERVICES
24 Hour Skilled Nursing Care
Physical and Occupational Therapy
Nutritional Counseling
Patient Activities
Patient and Family Education
Ancillary Services (Lab, Imaging, Respiratory Care)
Care Coordination and Discharge Planning
ADVANTAGES
Allow a patient who is not ready for discharge to continue receiving the care they need without leaving the hospital.
Increases a patient's opportunity for continued recovery and a return to independence.
Patients experience improved quality of life when they are able to return home after receiving the skilled care they need.
Patients and their families are encouraged to participate in the care plan and treatment options while receiving services.
Patients are encouraged to wear their own comfortable clothing.
A variety of activities and services are available to assist the patient and prepare them to return home.
ELIGIBILITY
A patient, covered under Medicare or some private insurance plans, that has been admitted to STH or any other hospital as an inpatient for at least three consecutive midnights.
A patient discharged from an acute hospital admission or skilled care admission within the past 30 days.
A patient that requires daily skilled services on an inpatient basis and services cannot be safely provided in an outpatient care setting.
INSURANCE COVERAGE
Medicare and some private insurance plans will pay for Swing Bed services. Medicare pays for Swing Bed services under Pat A skilled benefit for up to 100 days as long as there is a skilled service needed and provided. Days 1-20 are covered at 100%, and days 21-100 are covered at 80% with supplemental or private pay to cover the remaining 20%.